Total Rewards designed to extend beyond your work schedule
At CommonSpirit Health, we believe investing in our employees lets them know they truly matter. We purposely take a holistic approach to our total rewards package by including monetary and non-monetary benefits that we've thoughtfully designed to support them personally and professionally.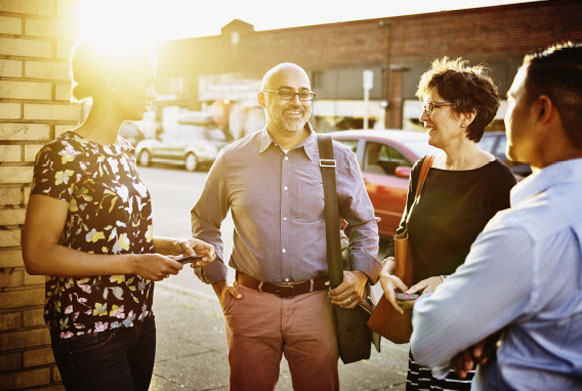 Our Total Rewards offerings
At CommonSpirit Health, your Total Rewards package includes compensation, benefits, retirement, wellness, leave, and other programs. Please explore what we have to offer below.
We believe in sharing our success with those who make it possible. We offer competitive compensation packages in addition to an array of employee offerings such as individual and organizational performance incentives, relocation, tuition reimbursement, and peer-to-peer recognition, and more!

We want our employees to be part of moments that matter to them and live healthy, balanced lives. We offer paid time off and flexible scheduling to prioritize work-life balance.

We are committed to delivering quality healthcare and wellness packages to our employees. We enable opportunities for them to care for themselves with benefits and programs supporting the mind, body, and spirit.

We advocate for lifelong learning benefiting your personal and professional growth. That's why we give employees access to free tools and resources that help them continue to make positive contributions in their field of field of study.

When it comes to their financial future, we want employees to feel secure. In addition to retirement programs, we also support financial literacy. It's our way of ensuring employees are aware of various financial situations to make well-educated decisions regarding their futures.

To continue building our supportive culture, we've developed partnerships with organizations such as Care.com for child or adult dependent care including free premium memberships with preloaded credits and Nationwide Insurance for pet care with preferred pricing and cashback offerings.
We are partnering with care.com to launch
our NEW family care benefits.

Investing in you

We offer programs for continuous learning and ongoing education so that we continue to nurture your career.
Join our Talent Community so you can stay connected and be alerted to future opportunities.
Sign Up