Explore your career path with our
Mission Administrative Fellowship
About the Program:
* National 18-month system-wide fellowship offered in our various operational divisions and functions across the organization
* Be part of a cohort of 11 fellows across the national system
* The Mission Fellowship includes three rotations, an interim leadership role or rotation elective, and the completion of a system-level project
* Fellows are full-time, salaried, benefit-eligible employees
* The program will start in July 2023
* The Mission fellow will be located in the Southern California division in Glendale, CA.
* The Fellow will be paired with wrap-around support from several levels of the organization.
* The Administrative Fellowship Program includes the completion of a development plan which is designed to compliment the experiential learning that occurs during the rotations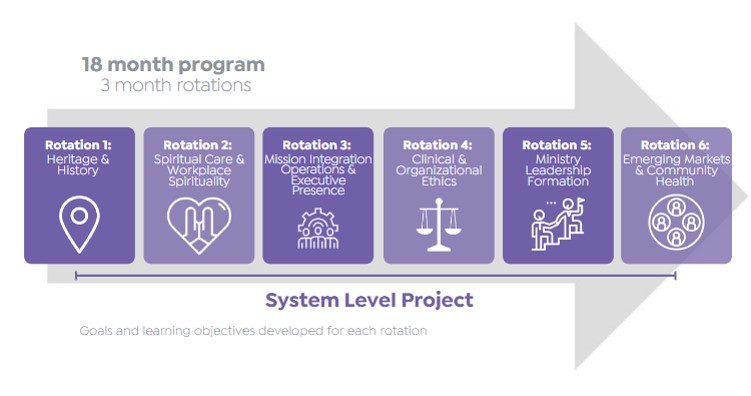 Fellowship Requirements:
* Students with graduation dates between Spring 2020 to Fall 2024 are invited to apply
* Available for recent Theology Master's, Master of Divinity, or related graduates interested in pursuing a career in healthcare mission leadership
Application Instructions:
In order to submit a complete application, please be sure to include the following documents as attachments in your online application in the candidate profile section:
1. Resume and a one-page statement of purpose (please combine into one PDF)
2. Resume: Please provide your anticipated graduation date on your resume
3. One-page statement of purpose addressing
4. Why you are interested in a Fellowship at CommonSpirit Health?
5. Why are you interested in Mission Integration?
Your professional areas of interest; and
1. How the Fellowship will have an impact on accomplishing your career goals
2. Graduate Academic Transcripts
3. Two letters of recommendation (one professional, one other)
4. If you are unable to obtain your letter directly from your recommender, they may send it to [email protected] with your name in the subject line.
*If possible, please attach it directly to the application.
In the application, you will be asked to indicate your divisions of interest. You may select up to three and rank your preferences.
Applications and Supporting Documents must be received by:
February 3, 2023
Anticipated Start Date:
July 2023
Meet our current Mission Fellow, Stephanie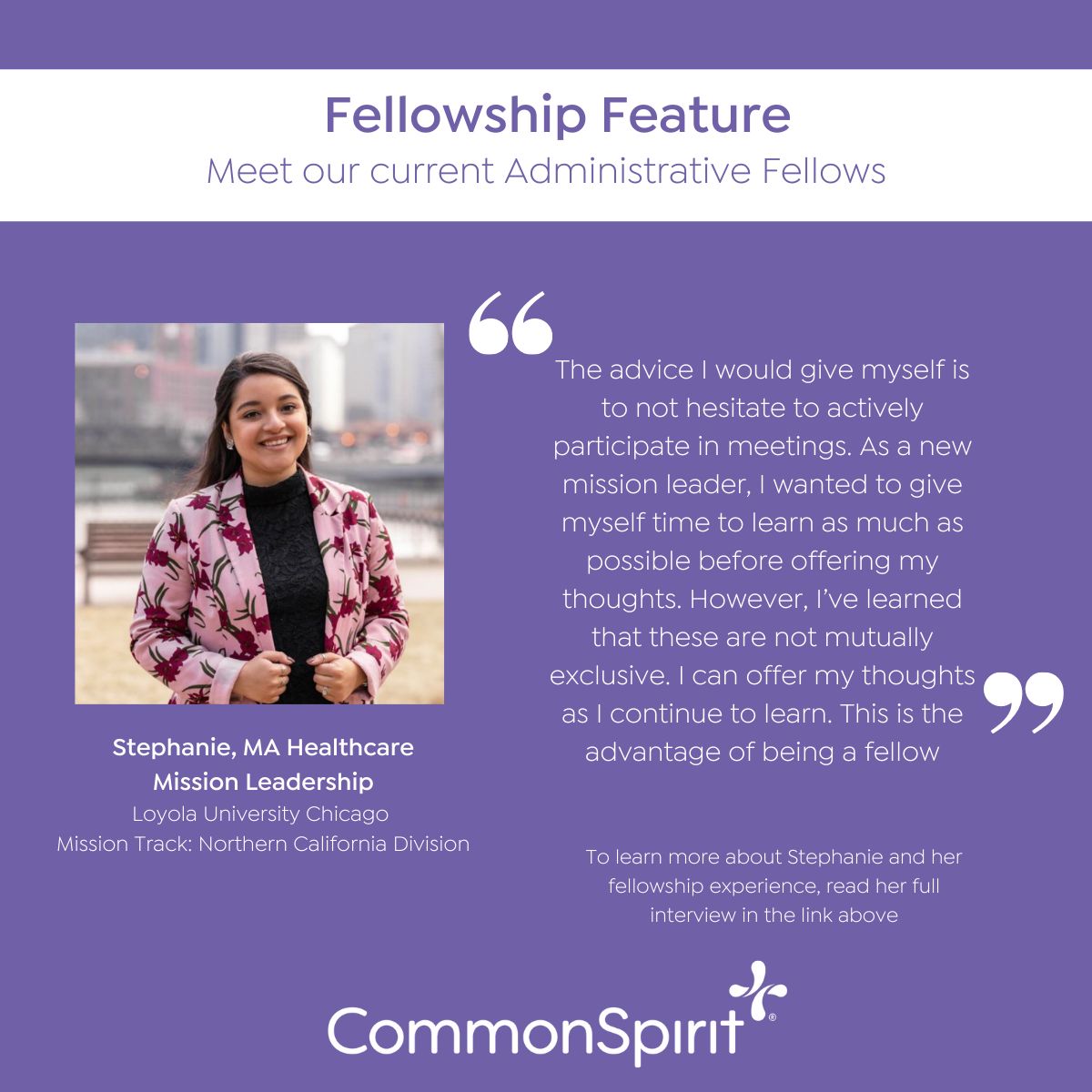 Learn more about Stephanie's experience here: https://bit.ly/FellowshipStoryStephanie
Application Period:
Monday, December 19, 2022 - Friday, February 3, 2023
Fellowship Dates:
July 2023 - December 2024
Would you like to be notified when the application opens? Sign up below:
https://bit.ly/MissionAdminFellowship
For questions, please contact:
Karrissa Jyles, Workforce Development Program Manager
Sofia Andrade, Workforce Development Program Manager
CommonSpirit Health National Office
444 W. LAKE ST STE. 2500 CHICAGO, IL 60606-0097